ENERGY IN FLUX, CHANGE IN MOTION
Video verisimilitude at the cultural coal-face of Asia
Soft Power: Asian Attitudes
Asian video art at CACSA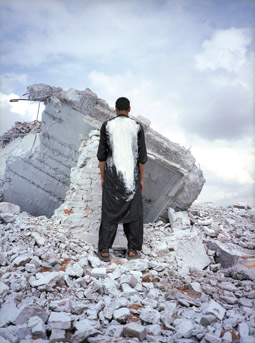 Lida Abdul, White House, 2005 (video still)
Image © The Artist
IN THE LEXICON OF INTERNATIONAL RELATIONS, SOFT POWER IS THE ABILITY OF A POLITICAL BODY TO INFLUENCE OTHERS, TO MAKE THEM "WANT WHAT YOU WANT." IN SOFT POWER, AN EXHIBITION OF CHINESE VIDEO ART AT ADELAIDE'S CACSA, THE TERM OPERATES MORE LOOSELY AS AN ARRAY OF ADAPTIVE AND RESISTANT FORCES ROOTED IN THE SYSTEMS AND ARTEFACTS OF CULTURAL IDENTITY IN CONTEMPORARY ASIA. IN HIS CATALOGUE ESSAY, CURATOR SHEN QIBIN CHARACTERISES SOFT POWER AS "FORCES THAT ARE NOT ONLY INVISIBLE, MINUTE AND CRYPTIC BUT ALSO FLUID AND TRANSFORMATIVE."
This is a slippery idea, one that video as the choice of medium in many ways works against. The sleekness of the video image, the assumption that it shows only a 'truthful' reality and the flat observational style of many of these works means that they seem at first viewing to present only a single view, an impermeable surface reflection of reality incapable of expressing multiplicity and complexity. For small and fugitive forces to emerge from the hard frame of video requires a type of open attentiveness in which acts and events—that seem to be only everyday—emerge as the markers and points of minute cultural negotiation.
Gulnara Kasmalieva and Muratabek Djumaliev's (Kyrgyzstan) large scale video, A New Silk Road: Algorithm of Survival, is suffused with a fluid energy. Filling a room, it depicts the contemporary activity of the Silk Road, men collecting scrap metal, container trucks moving through the starkly beautiful landscape to a marketplace where clothing is produced and wrapped in plastic for transport elsewhere. The strong horizontality of the screens and landscape—with the Silk Road extending out of frame—creates a sense of travelling through, of trajectories reaching out, and the invisible flows of trade that have shaped these spaces for centuries.
The journey takes on the form of a pilgrimage as the drivers stop at various waypoints, a village with soccer playing kids where they sing and play accordion, a field culvert where they wash their trucks, the boy and horse who seem to have emerged from the landscape. These events and the Silk Road itself as a constant unwinding presence are markers of the adaptiveness and persistence of identity. As an algorithm is a series of steps for problem solving, the journey is a series of transformative leaps, energy moving from state to state, from that embodied in metal, to that of production and released in song to the momentum of travelling trucks.
This sense of transformative power is shared by Linda Abdul's White House (Afghanistan) where small events (boys selling scavenged bricks; a woman continuously whitewashing the ruins of a house; the man who comes to stand in it) become powerful acts of reclamation. The transformation of energy through the smallest act suggests an exercise of power.
Erasure is at the core of Qui Zhijie's Grind the Tombstones (China) and Chen Cheih-jen's The Route (Taiwan). Zhijie ground two headstones (one western 19th century, one a 1500 year old Chinese grave marker) together eventually eliding the inscriptions altogether.The prints taken from the stones at various stages of erosion are readable from either direction as emerging from or reducing to blankness, a to and fro motion creating a precarious equilibrium between existence and erasure.
Where Grind the Tombstones elides the marks of history without changing it, in The RouteKorean dock workers' tactical restaging of a picket line links them to a history from which they were originally omitted. Filmed in black and white with archival footage and resonant with slogans used in the 1997 British dock strike—"Change the outcome", "Reclaim the future"—The Route intervenes in the past to do exactly this.
The tiny accommodations of cultural change are as awkward as the children in Leung Mee Ping's Don't Blame the Moon (Hong Kong). Dressed in their best, placed in front of various deities (Buddha, Christ, Krishna) and stating their ambitions to camera ("I'm Irshad, I want to be a teacher") the children are as trapped by these bland statements as they are within the frame. Mahmoud Yekta's (Australia/Iran) uncomfortable installationSlogun (the screen placed in the ceiling above a hospital bed in the gallery), unsettles with its images of floating fire, ice and oil on water and a boy's nightmarish story, and in its disconnection from anything: the total elision of the power to know and locate oneself.
Soft Power is held together by the idea of multiple forces invisibly at work, of minute change wrought at the level where it is sensed rather than seen and the most successful works are those that convey this sense of energy loosed and transformed.

————–
Soft Power: Asian Attitudes was originally exhibited at Shanghai Zendai Museum of Modern Art in November 2007, and curated by the museum's director Shen Qibin, with Binghui Hangfu & Biljana Ciric. Selection for CACSA by executive director Alan Cruickshank. Soft Power: Asian Attitudes, curator Shen Qibin, Contemporary Art Centre of South Australia, June 6-July 13 2008
Jemima Kemp is a freelance writer based in Adelaide who participated in the Adelaide Festival Visual Arts program's Critics' Masterclass in 2008.
Published:

RealTime +onscreen Magazine
issue #86 Aug-Sept 2008 pg. 48