21st Century Australian Craft 
Art Gallery of South Australia, 5 December 2009-31 January 2010
Craft seems to have been pushed into an uneasy place of late. Rebranding it as design implies a cerebral process divorced from the physical, the diy craft scene is perhaps more about social or political positionings and fashion than the encompassing practices that professional craftspeople dedicate themselves to and presenting craft as art seems somehow to be selling it short.
In all this renaming and strategic repositioning of craft there seems to be a retreat from the work of the hand, the process of making, reducing craft to simply a product.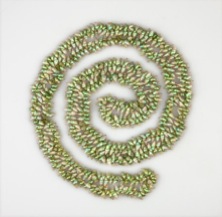 Lola Greeno
Australia, born 1946
Necklace
2001, Riverside, Launceston, Tasmania
maireener shells
206.0 cm circumference
Rhianon Vernon-Roberts Memorial Collection 2001
Art Gallery of South Australia, Adelaide
© Lola Greeno

But both verb and noun, craft is inherently both, the meanings twine together in the word unavoidably. It's this performativity of making that Bravura seeks to reinstate, process as a kind of virtuosic display. I confess though that virtuosity has always made me slightly mistrustful (what exactly is it that virtuoso's do when they're not being supernaturally good? be supernaturally bad?). I'm unsure if this comes from a suspicion of Mephistophelean deals going on or an ingrained distrust of 'showing off' but it strikes me that there must be a word, a right and proper word that means doing something quietly, beautifully, superbly over and over again, day after day.
Drawn entirely from the Art Gallery's' collection, the objects in Bravura embody this doubleness of meaning. Much of the work here is stunning and seamlessly emerges from lineages of making and living. Lola Greeno and Jeanette James' work comes from an unbroken tradition of indigenous shell stringing. Palawa women from Tasmania where shell stringing is passed on generationally, Jeanette is a senior custodian of the art. The tiny Marineer shells are highly prized with the rarer green ones the more so, collecting enough for a string can take three to four years and Lola Greeno's very long strand (206 cm) Necklace (2001) sits with Jeanette Jame's Blackcrow and Kelp Shell Necklace(2007) as an unbroken thread of connection to a very strong and specific history and landscape.
The peculiar intimacy of jewellery seems to undo the boundaries between self and the world. This is particularly so in Marian Hosking's work where boundaries seem only just held apart (or together) by the materiality of the work. Here, the nacreous disks of pearl shell in Brooch (2006) barely held together by blackened oxidised silver suggest water over rippled sand, reflections, finger nails, the papery rounds of Honesty seeds resonate with the bleached shell like texture of shark vertebrae of Shark Necklace (2008) made by Rose Mamuniny Gurruwiwi. Bone and nail connect the wearer's body to the world. Sieglinde Karl's inscribed wooden bangles carved of Tasmanian woods,BanglewristHuonpine (2000) could only have come from the island, so strongly are they connected, materially and textually to their place.

There is a certain effect of neckpieces that has to do with the way that they fit the body. Encircling the throat and sitting atop the jugular notch, there is a delicacy and vulnerability that comes together in Jeanette James poignantly lovely Echidna Quill Necklace (2007), its curling form repeating the inward curl of the creature spines outward, the time and attention in its making an act of care toward the landscape itself.
While there are themes to be found here, the connection of work to a feeling of place is often less apparent. Khai Liew's exquisite Rem Chest with Stand (2009) draws on Art Deco and Oriental furniture traditions but also the vernacular furniture of South Australian settlers in its elegant, functional form.
The process of craft continues in the use of the made thing, in their presence as objects of use even where that use might be solely aesthetic in their presence in the everyday available to be held and known through touch. Gwyn Hanssen Pigott's bowls and vessels in Float(2007) cluster and stretch along a shelf their spatial breaks and pauses, the just off symmetry of bowls pushed out of a perfect round and the small bevies of vessels forming a visual music of space and time. Collections abound here, Angela Valamanesh's About Being Here (2001) in its sparseness and colour very precisely invokes the dry emptiness of South Australia while Animal Vegetable Mineral (2007) craftily presents itself as a concrete image of something whose true nature we can't quite be sure of.
Gerry Wedd's blue and white Arcadian Still Life (2004) collection plays with the idyllic, its rhythmic arrangements gently evoking this idyll while Vipoo Srivilasa's Memoirs of Coral(2009) strangely but endearingly transforms reefs into china collections highlighting the fragility of this endangered environment through the choice of medium.
The haptic nature of crafted objects, that they are known through touch means that they can sometimes lose out in gallery settings where sight has to replace the other senses. This is where display matters as it forges and explicates linkages between objects, brings out themes and continuities otherwise unseen and gives a sense of the lives and places that these beautiful made things have emerged from contextualising and giving an expanded meaning.
Situated in the art galleries subterranean downstairs in a space that seems awkwardly hived off from the back of the Brack exhibition, Bravura doesn't quite achieve this in its display. Cabinets are tucked into odd niches necessitating a shuffling around and the white walls without the advantage of abundant lighting are dead rather than an emphatic background for the work. Given that the gallery has recently successfully used colour within exhibitions (Heysen, The Golden Journey and John Brack) the central wall display of stunning basket work could have hummed against colour. The space unfortunately feels too temporary and the lighting lacks focus particularly for glass work, with works such as Tim Edwards Diffuse 10(2005) with its complex play of colour and shadow needing focussed lighting for it to sing.
While Bravura doesn't quite hang together as a thematic exhibition, the beauty and quality of the works themselves are absolutely absorbing and individually they speak of this act of creating as an integral part of a life where making is something that's done beautifully, quietly, superbly over and over again, day after day. And the proper word for this making I've found now, that word is craft.
Jemima Kemp
Published dB Magazine
February 2010